Currahee Vineyard & Winery Valentine Dinner
Marvin is happy to announce he is hosting a Currahee Winemaker's Valentine's Dinner on February 13, 2016. This email is being sent to you because you attended the last dinner or you have expressed interest in the next dinner. The dinner will again be catered by Pitmaster Dale Thornton of South40Smokehouse in Marietta. The hours will be 6:00 p.m. until 8:00 p.m.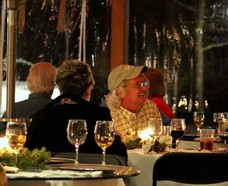 The menu will consist of:
Strawberry Pecan Spinach Salad
12-oz Ribeye steak with A1 Steak Sauce
Baked potato with potato bar
French Green Beans
Dinner rolls
Cheesecake with chocolate sauce and fresh strawberries
Something special is being planned for the wine for this event.
Entertainment will be provided by Tim O'Donovan, a multi-genre singer/songwriter who currently has two CDs, "My Life" and "One Night in Nowhere," and Tim welcomes requests for particular songs.
Tickets for the dinner will be $80.00 per couple. They can be obtained by calling Chris Hansel at 706-612-5685 or Steve Kennedy at 530-321-7349. Ticket sales will be open to the general public on January 29th, just a few days from now, so get your tickets early before they are gone. Bring your sweetheart or even just a friend, be in a romantic mood and get ready for a wonderful evening. We look forward to seeing you then.